In the next few posts, we will post up important topics which are frequently asked by our technical support customers in relation to issues they face in their day to day processing.
The first will be how to check if  the GST report agrees with balance sheet in MYOB. If there is an out of balance, your company will need to take remedial steps to rectify this and we do provide solutions to our customers for such technical issues.
Step 1    Go to index to reports
Step 2    Click the GST/Sales Tax tab
Step 3    Scroll down to the bottom and look at the reconciliation reports header and double click the Tax Information Reconciliation (Summary/Detail)
Step 4    Set the date to the date of the GST that you will be reporting
Step 5    Click Display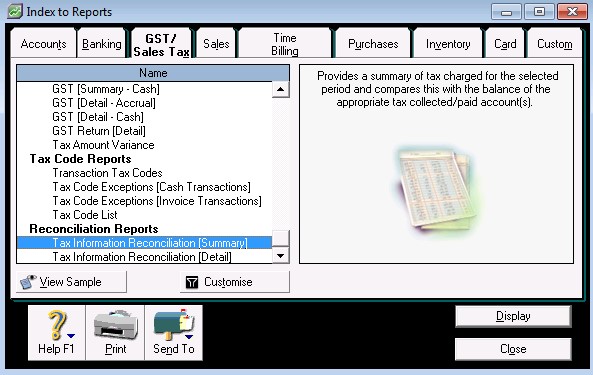 Step 6    From this report, we can see that there is an out of balance in GST paid.
The top figure is what you will see in the GST report and the bottom figure is what you will see in the Account balance.