When your company purchases an MYOB Software licence, you will be allocated an installer CD-ROM and a 16 digit product serial number. You will be required to use the installer to do a basic installation of the program to your computer windows system.
An unable to perform Online Confirmation pop up normally happens when you start to proceed to create a new company profile be it the first profile or additional profiles with the identical allocated serial number.
The software's inability to proceed with MYOB File Confirmation Window Pop Up happens for the following possible reasons: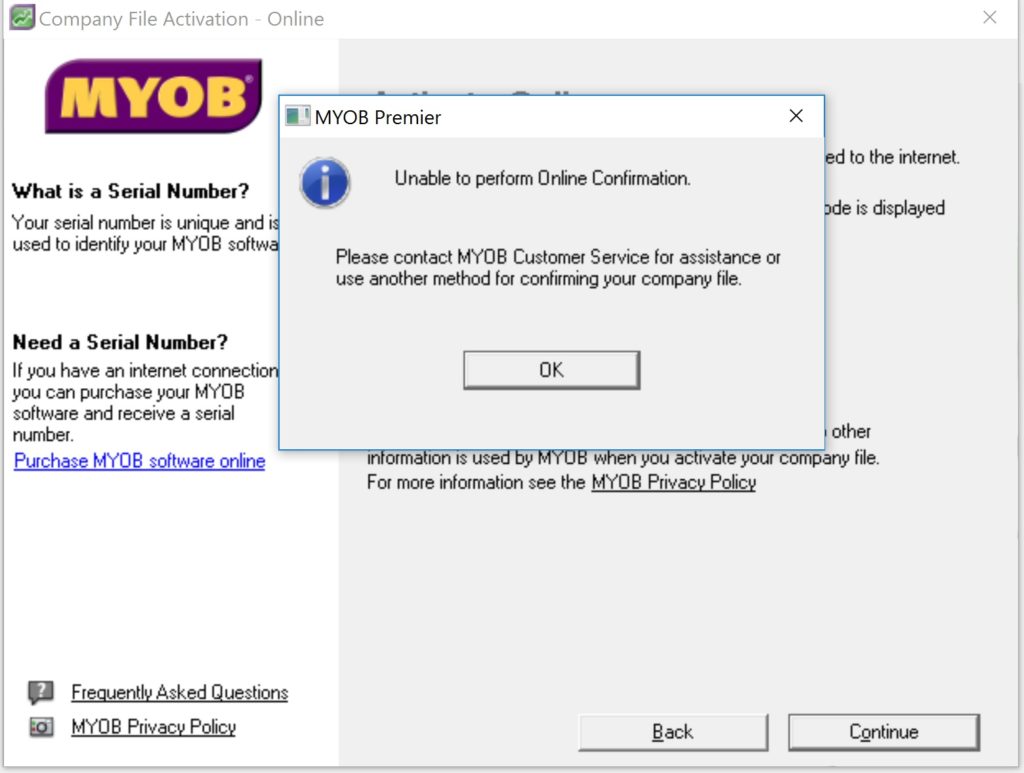 MYOB Product Not Registered
When you purchase an MYOB Software your 16 digit serial number will need to be registered online, the purpose is to ensure that you are using a recognized serial number as issued by MYOB. It will take about 1 to 2 days following which you will be able to perform an online confirmation.
Incorrect Product Serial Number
There are instances when you enter in an incorrect product serial number during the MYOB File confirmation window pop up. The MYOB confirmation server does not recognize this and you will not be able to proceed.
Incompatible software version with serial number
The software installed CD-ROM will indicate the software version that you had purchased, there is a specific 16 digit serial number allocated to each software version. In the event you use an incompatible version, for example you purchase an MYOB Premier version 16 software, a few months later you download the upgraded MYOB Premier version 17 online or from other sources and you use the 16 digit serial number that is allocated to your initial purchase of version 16, you will not be able to proceed with the online confirmation as the system recognizes this incompatibility.
You will need to purchase a software upgrade before being able to upgrade your previous MYOB version, although you may have installed a higher version, the MYOB server does not recognize this upgrade.
Internet Connection
If your company is using a weak or having no internet connection, you will not be able to perform an online file confirmation for the allocated serial number and data file.
MYOB Data Files Being Maximized
When you purchase an MYOB software, the 16 digit serial number is by default allocated 5 company data files, you will need to keep track and manage the number of data files being utilized and the balance remaining. If you had fully utilized the 5 data files and you are unable to perform the online confirmation, you will need to purchase the additional data files from us.
Anti Virus Program
Anti Virus Programs and certain firewall applications prevent the MYOB File confirmation server from accessing the MYOB Data File, you will need to turn off your anti virus programs or firewalls temporarily.
If you are in need of any assistance, our technical support consultants have assisted numerous customers with their MYOB technical issues and will be able to narrow down the cause of your problem to get you up and running as soon as possible.