Now known as ABSS Accounting Software Upgrade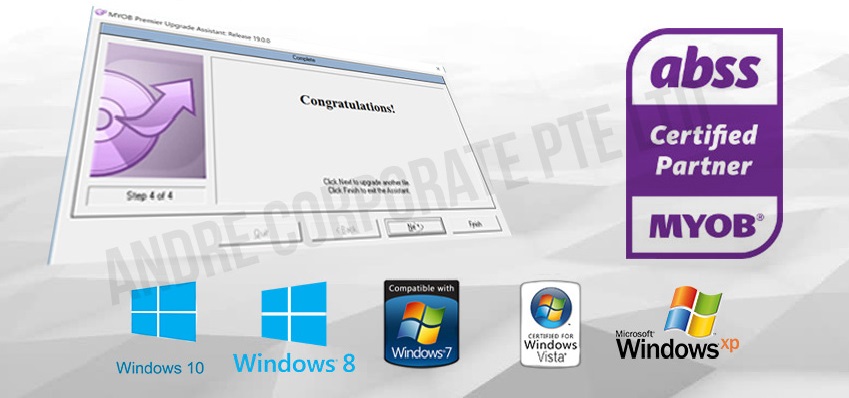 What is our MYOB Accounting Software Upgrade Programme?
The MYOB accounting software Upgrade (now know as ABSS accounting software upgrade) is our software upgrade specialization programme to enable the current MYOB user to upgrade their existing system to the latest software version so they are able to reap its benefits. We perform software upgrade for all software version regardless of which year you had purchased and also not dependent on the condition of the existing system.
This MYOB software upgrade programme is catered to all users who require their MYOB system to be upgraded so the newly implemented system will be able to meet their existing requirements.
What are some of the benefits of signing up for the MYOB Software Upgrade Programme?
Click on the link here to download the list of compliance updates, new features and enhancements available in the latest version!
The latest MYOB Versions are certified compliant with Windows 10, this is applicable to users using the windows 10 operating system.
Integration with the ABSS click to pay function are available for vendors to easily collect payments from customers.
Integration with ABSS Web Services such as Business Intelligence for Cloud and ABSS webstore.
Business insights feature allows for greater analysis of financial information and graph charts for example cash flow position.
The replacement of QuickTime graphic library with Microsoft GDI+ to enable use of images on your MYOB customised forms, this is to minimise your company exposure to security threats online.
 Google Maps enhancement allows viewing of Customer and Supplier addresses via google map and you can get directions from your current address to the customer or supplier address with this feature.
Which software type and versions do you implement upgrades for?
We primarily perform upgrades from old version to Latest Version for:
MYOB Business Basics
MYOB Accounting
MYOB Payroll
MYOB Premier
MYOB Premier Plus
We also perform ALL KINDS of  upgrades for users from a basic system to a more comprehensive one with more users.
Below are some examples:
A user may wish to upgrade from a basic system such as MYOB Accounting to a multi user system such as MYOB Premier 3 user licence.
A user may also wish to upgrade from a single user MYOB Premier to a single user MYOB Premier Plus.
A user may wish to upgrade from a 3 user licence MYOB Premier to a 5 user licence MYOB Premier.
An MYOB Payroll user may wish to upgrade from a MYOB Payroll Version 5 to a Version 8 to have access to the latest CPF table rates in their system.
What is the lead time required to carry out the upgrade for your company?
We will normally take around 1 to 2 hours to do an upgrade of your existing old MYOB system, this is to ensure that all your valuable transaction data on your old system will be migrated properly to your new system.
We will need to know the current MYOB version that your company is operating on and its existing operating windows system and the number of users so we can better assess the time required for the whole process.
How do we get started with the MYOB Software Upgrade Programme?
Kindly contact us and let us know the following details.
Your Company Name
Your current MYOB version
No of user licences
We look forward to hearing from you so we can understand your business better. We will get back to you as soon as possible.
Click here to enjoy $200 Off our MYOB ABSS Accounting Software Upgrade