Objective:
The purpose of this promotion is to encourage more companies to adopt and implement a stable and viable solution for their business needs. We strive to be able to assist your company to implement an effective solution at minimum cost that contributes to a substantial increase in productivity and at the same time meeting your regulatory requirements.
Prices for the below abss accounting software promotional products!
All products below are E-Invoicing Ready via PEPPOL network when you purchase any of the below products and register your Company on the E-Invoicing Network.
**ABSS ACCOUNTING V30 SINGLE USER**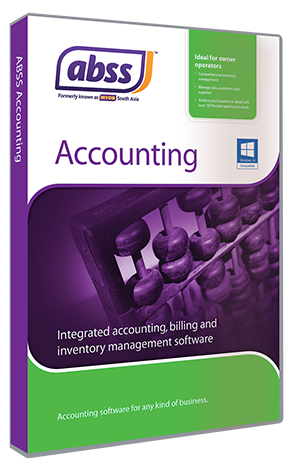 Retail Price $848
**Price Today $599 **
ABSS PAYROLL V11
Retail Price $1,268
Price Today $951
ABSS PREMIER V30 SINGLE USER
Retail Price $1,399
Price Today $1,049
ABSS PREMIER V30 MULTI USER
Retail Price $2,299
Price Today $1,724
ABSS PREMIER PLUS(with payroll features) SINGLE USER
Retail Price $2,349
Price Today $1,761
ABSS PREMIER PLUS(with payroll features) MULTI USER
Retail Price $3,159
Price Today $2,369
The above products are bundled with the following free deliverables below with every purchase from us:
Free 30 day business support by ABSS to get your business up and running
Hardcopy and softcopy software installer to install and activate your software with ease
Software PDF user guide and manual for your easy reference
Enjoy the below benefits for all the above listed software solutions when you purchase from us exclusively:
Simple to use with no accounting Jargon
Zero subscription fees
All Windows system compliant
Able to export reports to excel and PDF
Full set of accounts functionality
Inventory capabilities
GST reporting capabilities
Generate in PDF and print professional invoice from system
Value for money reliable and stable software system
Want more savings? Click here to save up to 90% under the ABSS PSG grant packages.
Kindly contact us as soon as possible at consultants@andre.com.sg or call our sales hotline at 9225 8858 to enjoy the above promotion. We strive to serve and respond to you in the shortest time possible.